Preparing for Academic Consultancy ebook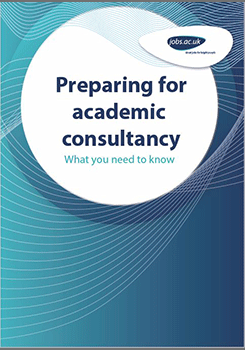 Academic careers are becoming increasingly diverse - especially for those in the early career stages. More academics now have portfolio or entrepreneurial careers and are looking to apply their expertise in these areas. Whether your career is on a 'new' or 'traditional' pathway, you'll have to demonstrate how your research has a wider impact on society. This requires opportunities to engage beyond academia.

In today's rapidly changing academic landscape, growing numbers of researchers are looking to provide consulting services and make their academic knowledge and expertise available to a variety of organisations, such as Government and the public and third sectors. Academic consulting also helps researchers to extend their network, keep abreast of the latest developments in their field and identify potential new funding sources.
As consultancy work requires a different approach, we've created this handy guide for researchers. Here you'll find all kinds of advice and information to help you decide whether consultancy is right for you, what competencies and experience you'll need and what you need to put in place to take on this type of work.
Who is this guide for?
Anyone who is thinking of exploring new academic consultancy opportunities either
through self-employment, as a Piirus Associate or alongside existing employment.
This guide will be of particular interest to early career academics.
Become a Piirus Associate - open up consultancy opportunities
This innovative new service by piirus.ac.uk opens up exclusive, independent, fee-based consultancy opportunities with organisations in the public, private and third sectors. Membership is free and you can become a Piirus Associate in a few simple steps. Visit www.piirus.ac.uk/associate for more information.