Everyone knows, in theory at least, about the importance of maintaining a balance between one's working life and everything that happens beyond that. With increasingly advanced technologies, it is becoming easier than ever to take work home, thus blurring the boundaries between work and home. Stress, and everything that goes with it, can begin to dominate. Of course you want to do your best for your students, but what about you?
Sarah Marten talked to two members of staff from the University of Bath on behalf of jobs.ac.uk about their own work life balance.
Dr Philippe Blondel is a Senior Lecturer in Physics and with over twenty hours of lectures and tutorials to prepare every week this semester, one might expect Philippe to be taking work home to complete in the evenings or weekends on a regular basis. But this is not the case, as Philippe explains:
"For me, it is really important to maintain a clear break between work and home life. It would be very easy for me to take work home, but I try to ensure all my work is completed during the working day, which starts at 9 am and usually finishes around 6.30 pm. The reasons are two-fold – I naturally want to have some quality time with my family but I also believe that my research and my teaching are better if I am not immersed in them 24 hours a day.
"If I'm to have fresh and original ideas, then I need to be relaxed. Taking time out, for example to walk in the park on a Saturday morning is important, since this helps me to see the bigger picture, whilst ideas are still brewing in the back of my mind. I could quite easily get trapped into working all the time, but I believe it is really important to have time to re-charge the batteries. There is life beyond work!"
Philippa Neaverson is the Research and Resources Manager in the Department of Alumni Relations, where she heads up a small team that manages the database of 80,000 alumni and supports the Department's fundraising activities. Philippa works four days a week at the University, which frees up her time to follow her passion – singing!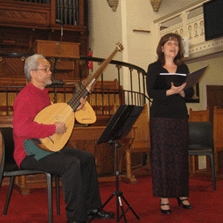 Philippa Neaverson, Research and
Resources Manager in the Department of
Alumni Relations, University of Bath
"When I started working at the University of Bath I was full-time, but once I had been here for a year I started to discuss the possibility of moving to a four-day week with my boss. He was really supportive, although I didn't actually change my working pattern for another couple of years.
"I had thought about reducing my hours because I was becoming increasingly involved with singing and wanted to pursue it to a higher standard. I am a member of the Bath Cantata Group chamber choir, and I belong to four smaller groups performing diverse repertoire – everything from Gilbert & Sullivan to early music.
"As my singing commitments grew, I decided to change my work-life balance so that I could enjoy this other dimension to my life instead of feeling stressed by time pressures. I've had 14 concerts this year including an increasing amount of solo work. This adds up to a lot of rehearsal time – and many hours of individual practice.
"Making music with friends is a joyful experience that gives me a great sense of wellbeing. I believe that finding space for this outside interest helps me to approach my work feeling refreshed and ready to focus on the job in hand.
"I was very fortunate in being able to reduce my hours, but whether work-life balance is achieved through changing your working pattern or by ensuring that your job does not encroach on your family life, I believe it is increasingly important to get that balance right.
"Economic pressures may mean that many of us will be working beyond the age of 65, even if it's on a part-time basis. By re-assessing my work-life balance now, I hope to continue to enjoy having a career and other interests for many years to come."