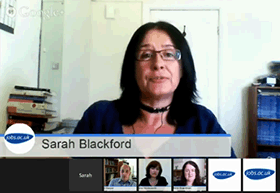 Sarah Blackford
Our Google+ Hangout on Air was hosted by Aimee Bateman, founder of Careercake.com. Aimee is a successful speaker, business ambassador and recognised employment expert.
The panel of experts were;
Sarah Blackford, Head of Education & Public Affairs at the Society for Experimental Biology and an academic careers specialist
Michelle Boardman, Senior Academic Manager at University of Derby Online Learning
Professor Paul Harper, Professor of Operational Research (OR) and Deputy Head of the School of Mathematics, Cardiff University
Nadine Holdsworth, Professor of Theatre and Performance Studies at the University of Warwick and Head of the School of Theatre, Performance and Cultural Policy Studies.
How can I best deal with my nerves at interview?
Professor Paul Harper mentioned that he still gets nervous at times and felt that our nerves show we care. He advised to prepare as much as possible. The more prepared we are the less nervous we will be. Understand exactly what the post requires, what attributes you are going to 'sell' to the interviewer and have examples ready to back up your answers. Michelle Boardman recommends rehearsing your answers out loud, not in your head. That way the information is likely to stick and will be easier to deliver when you are nervous.
One of my tips for handling nerves is to prepare your mindset, not just your interview answers. If you can have a conversation with someone who makes you feel incredible then do this. Having a pep talk with a 'lighter' is a great way to feel good. I also recommend listening to your game song. Music is a hugely powerful tool and helps us feel a variety of emotions. If we can listen to a track that puts us in a great mood this will also help.
Finally, I think it best not to apologies for being nervous. You don't need to draw attention to the one thing you didn't want the interviewer to focus on. It can change the dynamics of the conversation, so just smile, be positive and power through.
Presentations are a common requirement, what tips do you have?
'Don't do death by PowerPoint' was the first piece of advice from Paul and the rest of the panel agreed. Ensure your slides are concise and not too crowded with text while you make eye contact with your audience as much as possible.
It is also a great idea to rehearse beforehand, but not alone. Rehearsing in front of friends, family or colleagues will help you prepare for the real thing.
Ensuring you don't run over the allowed time slot is also important and discussing plans and ideas for the future is a great way to finish your presentation.
What advice do you have for a Skype interview
Sarah Blackford confirmed that an increasing number of academic interviews are being conducted via Skype due to this being such a global career. All panelists agreed that dressing the way you would for a face to face interview is essential, as well as checking your sound quality.
It is also important to position any natural light is in front of you (you do not want to look like a silhouette). Put a note on the door to ensure you do not receive any interruptions and prepare your questions and answers in the same way you would for any other interview.
Finally it is worth noting that you will have to work harder to build rapport and compensate for the lack of body language. Smiling while the other person is talking can do this quite easily. This may sound strange and obvious but when we listen and concentrate we don't necessary smile. This is vital in a Skype interview as that physical interaction is lacking.
What advice do you have for someone starting his or her academic career?
All our panelists agreed if you have reached the interview stage, your lack of experience might not be such a concern. They are obviously interested so don't let this worry you too much.
The best thing to do in this situation is show your research skills. Research the group and subject as much as possible and show them how committed you are to adding value to the project.
Identify all your achievements during your PhD, both professionally and personally, and note their relevance to the position. Identifying your personal attributes is just as important as your experience, so do this well. Think of your self as a product. Why do you get out of bed in the morning? Why do you work as hard as you do? What motivates you? The employer is looking to buy all these things too.
Your level of self-awareness will be your greatest tool throughout your career. If you know what makes you thrive, you will make better decisions and you can deliver your answers with real substance.
How should I behave in an interview if I already know the panel?
Nadine and the other panelists agreed this is more common in academia than any other sector and a great topic to discuss.
All felt that acknowledging your interviewer in a familiar way and then behaving in a professional manner is the correct approach. Don't assume they will know all about you and your capabilities however. It is best to treat them as strangers in that respect.
What questions should I ask at the end of my interview?
Any questions, which encourage conversation at this point, are great. Avoid questions on topics such a salary and benefits. Use this opportunity to build rapport and make a commercial impact on your interviewer.
Asking about the future challenges and opportunities will allow you to position yourself in these situations and offer recommendations and thoughts you have pre-prepared.
Finally remember that people will often forget what you said to them, they may forget what you did to them, but they rarely forget the way you made them feel. It is essential the interviewer walks away from the room feeling positive and excited. One way you can achieve this is by asking 'what do you enjoy most about working here'. This is a personal question, but not too personal. If you want someone to be genuinely interested in you, it is best to show you are genuinely interested in them.
Thank you to our panel and viewers for tuning in and contributing to our discussion. This is just a summary of the topics discussed, so if want to hear more you can watch the full Google+ Hangout on Air here.