Interactive Templates and Activities to Reinvigorate your Career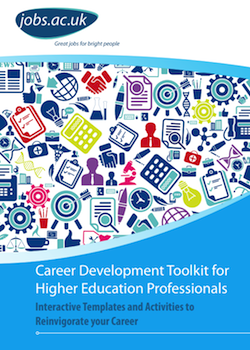 Click here to download our
'Career Development Toolkit for
Higher Education Professionals' eGuide
Careers in Higher Education (HE) are changing rapidly as institutions adapt to a global marketplace for students, and as the political and economic landscape becomes more challenging. Traditional career structures are fast disappearing and new areas of work are emerging. How can you manage your own career development through these turbulent times? How can you make sure you are best placed to exploit new opportunities?
This interactive guide will help you:
• Reflect on the skills and expertise you have to offer
• Identify opportunities for progression
• Find out how others have developed their careers
• Learn what skills will be in demand in HE in the future
• Pick up practical hints and tips for your career development
• Help you take control of your own career
Use the activities in this toolkit for inspiration as you work through each step of your career planning.
Download the Career Development Toolkit for Higher Education Professionals now!