A Practical Guide to Planning an Academic or Research Career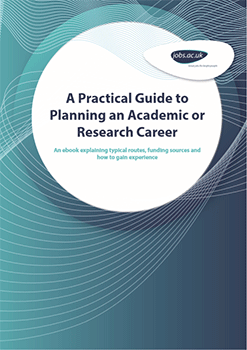 If you are enjoying doing independent research during your undergraduate career, you might be considering staying on at university to do a Masters and then a PhD. But there are lots of decisions to make. Are you personally and financially prepared to commit to postgraduate study?
This ebook will help you to decide whether doing a Masters and then a PhD followed by an academic career is for you. It is an incredibly fulfilling career path, but also a highly competitive one that requires years of dedication. You will learn about the routes you must take to become a lecturer or a researcher, as well as alternative career opportunities outside academia for those trained to postgraduate level.
This ebook will cover:
Postgraduate study: how is it different from your degree?
5 steps to an academic career
Funding sources
How to gain industry experience while studying for a higher degree
What you need to know about your PhD before you start
How jobs.ac.uk can help you.
Also included are a couple of simple 5-minute activities to help you consider your options and an action plan template to help you plan your academic career.