American Academics Abroad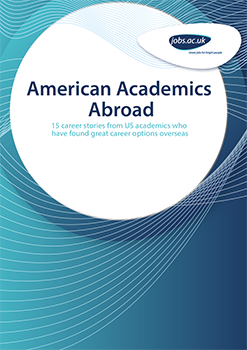 Whether you're looking for a way out of endless short-term adjunct positions, needing to get closer to the topic of your research, or seeking the penultimate career-crowning senior post, working at an overseas university could be just the ticket.
In this ebook, jobs.ac.uk – the leading international jobs board for academic, research, science and related professions – tells the stories of 15 American academics who have taken the risks, and reaped the rewards. They range from recent PhD graduates in the early stages of their careers to highly experienced professors who could have their pick of positions. Each has his or her personal reasons for working abroad, and all offer tips and encouraging words for others who would like to follow their lead.
To help you explore the benefits and opportunities of working abroad, download our free ebook 'American Academics Abroad' which offers helpful tips on:
Preliminary planning
Finding a post
Help when you arrive
Additional resources