Building Academic Job Applications: A Quick & Practical Guide for Early Career Researchers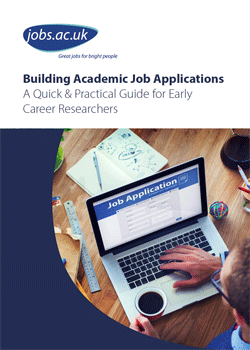 This resource is targeted at those at an early stage of their academic career. It has been designed to offer practical suggestions and advice to assist early career researchers as they make applications for jobs at the critical developmental stage of an academic career. Therefore if you are:
A final stage PhD applying for postdoctoral research positions and/or teaching fellowships.
A postdoctoral researcher/knowledge transfer/career development fellow or teaching fellow/assistant applying for an independent research/academic post as a lecturer or assistant professor.

This resource may assist you in reviewing your existing application style and approach as well as providing a vehicle to assess career progress and identify a focus for further career actions.
This ebook will help you build the perfect academic CV, take you from building postdoctoral research to your first independent academic position, and help you to perfect covering letters and/or personal statements.