Career Development Toolkit for Researchers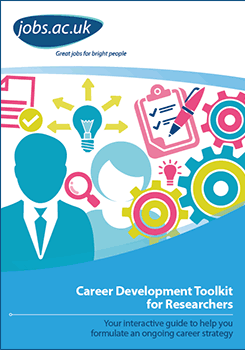 This toolkit is aimed at post-doctoral researchers who have gained one to two years experience in academic research. You may be at a point at which you are considering your overall career progress and development in academia or be contemplating a career change.
This toolkit offers some general starting points for those wanting to reflect on their career to date and to begin to formulate an ongoing career strategy.
How to use the toolkit
Whatever stage you are at in your post-doctoral career it is advisable to work through section one to give yourself the opportunity to step back from the demands of daily work in order to analyse and consider fully your career to date. You may also wish to include in your reflections experiences that you have acquired in other areas of your life. The demands of busy jobs and personal lives give little time to consider and act on your personal and career development needs, and working through section one may offer some much needed time to analyse how you have gotten to where you are before considering the future.
Sections two and three offer the chance to focus on academic career progress or career change. Some of you using this book may be clearly set on the academic career route and section two may therefore be your main focus, although it is strongly suggested that you read through section three so that you are aware of alternative career options and approaches to achieving them. Section three is a starting point for those considering a career change or who are still not sure if the academic career pathway is for them. However, the emphasis here is that it's a starting point and does not provide an exhaustive approach to all the career options open to researchers.
The toolkit is divided into three main sections:
Section 1 – Stop and take stock
This section will offer the opportunity to review your career and experience and to reflect on your career decision making to this point. The information and analysis gathered in this section will then be used in sections two and three
Section 2 – Assessing your academic career progress and planning for the future
This section will focus on the key areas of academic career development and offer prompts for your career analysis, with suggestions for future actions and tips on how to follow up on these.
Section 3 – Considering alternative career options
In this part of the toolkit you will be encouraged to use the reflections on your experience undertaken in section one to investigate other career options.