Research Publications Planner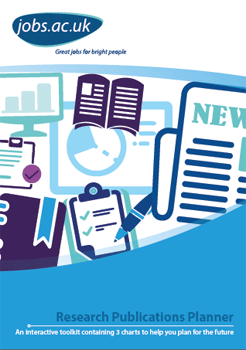 An interactive toolkit containing 3 charts to help you plan for the future
Planning can make us all more productive. It helps us to increase the impact of our research and publications amongst all the other pressures of academic life, and encourages us to make time away from other activities such as teaching, student support and administration.
Three different charts are provided in this toolkit. These are the:
1. Long-term plan
2. Conference plan
3. Minor publications list
This toolkit may be especially useful for the following people:
Early-stage research students, to help develop effective habits and to look forward to the tasks and timescales required for their first publications
Late-stage research students, to help look beyond the PhD thesis and towards the next stage of their academic career. Well-considered research plans will help candidates to perform strongly at academic job interviews
Early-stage post-doctoral researchers and other academic staff, to help refine their existing plans, or to develop new plans if they have limited planning experience.
What do you think about this resource? Email your thoughts and feedback to us