The Essential Career Organisation Toolkit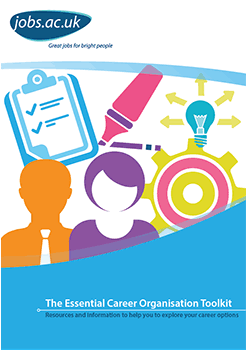 It's never too late to start organising your career. The workplace is constantly evolving and it can make a big difference if you can adapt and move with it. It's not unusual for people to change their career several times over their working life or design their career to give them greater freedom and flexibility. If you can be pro-active in driving your future you are much more likely to be satisfied, fulfilled and have a sense of being in control.
The essential career organisation toolkit offers a range of resources and information to help you to explore what is important to you in your life and career. It aims to enable you to consider your options, understand how you can create opportunities and then set goals to achieve your short and long-term objectives.
This toolkit includes:
Sections
Why do you work?
Assess where you are now
Consider your options
Make a decision
Prepare for the future
Review your progress
Resources
Activities
Career organisation chart
The wheel of work
Career self-exploration tool
Career spot check
Mind map
Who is this toolkit for?
It is intended for anyone who wants to look ahead and play an active part in taking their career forward. You may be starting out, seeking promotion, looking for a career change or wanting to reshape your work-life balance. If you are one of the many people drifting along in your job, then this could just be what you need to kick start your career.