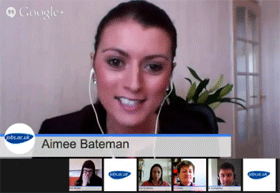 jobs.ac.uk Google+ Hangout
Screenshot Photo of Aimee Bateman.
Watch the full recording here.
Last week I hosted a live Google+ Hangout on Air with four inspirational panelists with one simple objective: to help you secure that dream job after your PhD.
The panel included Dr Chris Humphrey, founder of Jobs on Toast, a blog dedicated to helping masters, PhD and post-docs students find fulfilling careers outside of academia. Clare Jones, a senior careers advisor from Nottingham University and Dr Ioanna Iordanou, a PhD development co-coordinator from Warwick Business School and last but not least Dr Nadine Muller a Lecturer from Liverpool John Moores University.
We were delighted with the number of questions the panel received and I want to sum up the key topics and main areas of discussion in this article.
What concerns do employers have about newly qualified PhD students and how can I improve my chances of employability in industry after academic training?
Firstly, showcase your commercial awareness by fully recognising the differences in culture, working styles and organisational structure. You may take a number of years working on one specific project, when this is rarely the case in industry.
You can overcome this concern but showing a range of activities that you were involved in during your PhD and the sometimes fast pace and tight deadlines that you have worked to.
Finally, emphasis your passion for the commercialisation of your chosen topic and the sector you are applying to.
A great tip came from Chris, who suggested that you could do some 'information interviews' during your PhD with commercial people who are already successful in the arena you want to develop in. This will show an employer that you have surrounded yourself with key influencers to expand your commercial awareness.
How do I identify the skills I've learnt during my PhD in order to become attractive to an employer?
This process starts with identifying yourself as a product. Recruitment is a sales process. Two people are buying into each other with a commercial objective. What does your customer (the employer) want to buy? Once you have sat down and fully understood what they are looking for, only then can you effectively sell them anything. Identify the criteria you would be looking for if you were in their shoes and reconcile this with your own skills set.
It is very important to remember that employers are buying a person. They are not just buying what you have done; they are buying why you have done it. Focus your time identifying and communicating your values and motivators also.
How do I balance job hunting while I am working towards my PhD?
It is essential that you do not get lost in the bubble of your PhD. While you obviously need to remain focused on your work, you must also take the time to build relationships with key influencers within your chosen career.
Rather than just thinking, 'I'm going to find 5 jobs to apply for this month' focus your energy on building quality relationships with people via social media and face to face in addition to this. This is most effective when you share information that they may be interested in rather than initially asking them to help you. Give, give, give and then ask for something in return, because if you want someone to be genuinely interested in you, you need to show that you are genuinely interested in him or her first.
Nadine suggested that you take the time to complete application forms during your PhD. You may not be considered until you have your PhD, completing them successfully can be a skill in itself, so practice before you have to do it for real. It can be time consuming, but you don't want this added pressure when you have finished and need to find a job.
How to I present my PhD on my CV. Some people have suggested I remove it so I don't intimidate an employer?
The entire panel agreed that removing your PhD from your CV was not something you should consider. I personally don't think that you should ever make yourself 'smaller' in order to make someone else feel 'bigger'…. I've been a recruiter for twelve years and I still feel very strongly about that.
The panel suggested you put your PhD under the professional work experience, rather than the education section. Present the work you have been doing as a job. If you have any concerns about this you can always address it briefly (and with conviction) in your cover letter.
What if an employer thinks I am overqualified?
If a potential employer tells you that they think you are overqualified, look them in the eye and tell them that you are not over qualified; you are exactly qualified. Emphasise your interest in the role and the commercial value you can add.
Also remember that this is so much more than the job. It is so much more than the duties and bullet points in the job description. There is an entire team, organisation, bigger story that you want to be involved in and show them how excited you are about contributing to that.
How can I help myself stay positive and motivated during my job search?
It is so important to value yourself during your PhD. Nadine mentioned that some people may think you are just indulging and just writing for three or four years, when this is not the case. You are an intelligent professional, who works hard and you must value yourself before you can ask anyone else to value you.
Surround yourself with 'lighters' on a daily basis. These are people who believe in you and make you feel like anything is achievable. Job-hunting can be tough and bouncing back from a rejection can be even tougher. Tough times don't last; tough people do, so stay focused, surround yourself with the right individuals and don't lose faith in your value.
I want to thank the panel and viewers for tuning in and contributing to our discussion. This is just a summary of the topics discussed, so if want to hear more you can watch the full Google+ Hangout on Air here.