Jill Warren is in the writing up period of her PhD at the University of Nottingham. Her PhD has had challenges but has also provided opportunities to work outside the UK and her reflections on all her experiences and what she might do after her PhD illustrate that it is not all about the research.
1. What was your educational background/qualifications before doing a PhD? Which Universities did you attend for your

Undergraduate and/or Masters and did you spend any periods of time working before you began your PhD?

My undergraduate degree was a BA (Hons) English Studies & Russian also undertaken at Nottingham and I then moved to Edinburgh to undertake an MSc Translation Studies. Between my BA and Masters I taught English in Moscow for a year. After my Masters I worked in the translation industry as a project manager for 3 years; 2 at a small company in London, then 1 year at a much larger company in Leeds.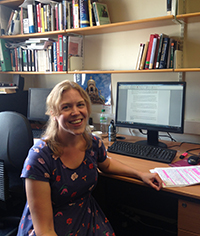 Jill Warren - PhD Candidate in Russian
2. What is your research area/dissertation title and why did you want to research this area?

My dissertation title is "Acculturating Shakespeare: the tactics of translating his works under Stalin in light of recent theoretical advances in translation studies."

My PhD thesis uses modern translation theory to examine the tactics used by translators in the Stalinist period to ensure that Shakespeare was still politically relevant and acceptable for performance on stage under the new regime. My project focuses on the work of Anna Radlova, one of the first translators to tackle Shakespeare in this period, and in particular, her translation of Othello, which was the most popular of Shakespeare's plays in the Soviet Union during this time. Anna Radlova was the wife of Sergei Radlov, a respected theatre producer and director, who staged two seminal productions of Othello which used his wife's translations. This relationship therefore provides a fascinating case-study for theatre translation studies: in addition to analysis of the text of Radlova's translation, the thesis also examines the process of moving Radlova's translation from page to stage, and investigates how far her husband's directorial approach to Shakespeare will have shaped his wife's translation decisions, and vice versa.

I became interested in drama translation during my Masters – is a play really the same play if you present it in an entirely different language and setting? I started with Shakespeare in Russia just because his work had been translated so much and the fact that he was such a canonical writer introduced lots of other interesting questions into the mix. I began looking at the whole history of his work in Russia, and then narrowed down my focus more and more. I came across a reference to Radlova and her husband during this initial research and thought they were an interesting case study, but it wasn't until my archive work in Moscow and St Petersburg in my 2nd year that I realised how much material was available on them and decided to make them my central focus.
3. When did you decide that you wanted to do a PhD and why?

I toyed with the idea of doing a PhD during my Masters, but then didn't really enjoy writing my dissertation, so decided against it and began working in the translation industry, however I became increasingly disenchanted during the year working in Leeds and felt I wanted to return to academia, but wasn't really brave enough to do anything about it.

It was when I got the opportunity to return to the Russian department at Nottingham for an alumni event, and got chatting to a professor who I knew was working in a similar research area that I started to think again about a PhD. Instead of just being polite she was extremely encouraging and things just escalated from there. I went to a postgraduate open day a few weeks later and had a meeting with her, we formulated a plan and I then began putting drafts of my research proposal together.
4. Can you describe the applications process and did anyone help you to prepare your application? What sources of information

did you use to

find out about PhDs opportunities?

I was a bit late the first time around as I didn't get my application in until February, so I knew it was unlikely I would get funding but I was prepared to start part-time as I knew it was what I wanted to do. Putting the research proposal together was difficult as I wasn't a student so didn't have access to a university library and so I basically had to be very nice to the doormen in Leeds and luckily they let me in! Then it was a case of reading as much as possible in the short time I had and sending several drafts to my supervisor who was extremely helpful. It is really essential to get this kind of advice. After the first year of my PhD I applied for funding again, and this time was successful, it is much easier once you are already on the inside!

In terms of sources of information, for me, it was more about returning to the department and working with a particular supervisor, so I didn't really research that far into other opportunities or applying elsewhere.
5. Did you have interviews for your PhD? If you did can you describe what they were like?

No, as I was already known in the department they didn't feel it was necessary.
6. What have been the main differences between undergraduate/masters study and being a PhD student and what have been

the main

challenges you've faced in your PhD?

The main differences have been that you are working much more independently, and you have control over the shape of your project. I would also stress how essential it is to build a good relationship with your supervisor. A PhD is also much more like a job than doing a university course, and I've found it helpful to treat it as such and take the approach of having working hours as far as possible.

The main challenges I have encountered have been:

Time-management; particularly when I was part-time. I was constantly worried that I wasn't doing enough work/earning enough money. Then, in my second year, balancing my own research with teaching commitments was difficult – you can't stand in front of a class unprepared, so sometimes your own work suffers.

It can also be difficult balancing commitments in your personal life. I have managed to get married since I started my PhD, so it is possible, but getting the work/life balance right is tricky due to the all-consuming nature of research.

Self-confidence has been another issue which I've battled with – you can't really compare yourself with what anyone else is doing, so it can be difficult to judge whether what you're doing is good enough. You have to learn to trust that your supervisor would tell you if there was a problem!

In my writing-up year I've had some health problems and have unfortunately had to have quite a bit of time in hospital and then recovering from operations. This has been very stressful, especially so close to the end of my studies, but my department have been very supportive and I've been able to get extensions to enable me to finish the work. It is good to know that there is help available if you ask for it!
7. What other experience have you gained during your PhD?

I've taken opportunities throughout my PhD to gain other experiences. One of the main areas has been gaining teaching experience. I've also undertaken an internship for the graduate school, at Nottingham, looking at the impact of the training courses that they offer and I've also worked as a demonstrator on their training courses. As part of my research I've been on archive training followed by 3 fully-funded research trips working in Russian archives and libraries. I've also gained experience in other departments in the University having worked part-time work in the careers service and the admissions office.
8. What has been the most enjoyable aspect of your PhD and what skills/behaviours and attributes have you developed

personally and professionally during your PhD?

I really enjoyed my 3 research trips out to Moscow and St Petersburg and am very grateful that I got the funding which enabled me to do this. The work I did there in archives, theatres and libraries really brought the project to life, and actually brought about quite a change in the overall shape of my thesis.

Better self-awareness – you learn a lot about yourself doing a PhD! Greater confidence in public speaking through presenting my research at conferences. I also would like to think that my writing skills have improved a lot – I think most people considering doing a PhD would think that they can already write pretty well, but working on something of this scale has been quite a learning curve.
9. What were your career plans when you started your PhD? If they have changed what career area do you want to go into now

and why have you changed your plans?

When I started the PhD, I fully intended to pursue an academic career, but, largely due to the developments in my personal life, I now feel that my priorities have shifted a bit. I would very much like to remain within the university environment, but am now investigating areas such as researcher development, as I feel these sorts of roles might offer a better balance of the things I enjoy.
10. What top tips would you give to someone who is considering doing a PhD in your academic discipline?

Be prepared to be adaptable. You never know what life is going to throw at you over the course of the PhD, and whether it is a new discovery which takes your research in an unexpected direction or an issue in your personal life, it's best to be as flexible as possible. It's pretty unlikely that your project will look the same at the end as when you started it.

If it's relevant to your research and financially possible, I'd highly recommend working in archives – it's challenging, but for me, it was what really made the project come alive.

Network as much as possible, not only is it important to keep up-to-date with the research in your field, it's great to have support from people working in similar areas. I'd also highly recommend taking an active part in the PG community within your own school or department as it's another invaluable source of support.