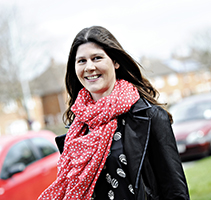 PhD Candidate In Civil And Building Engineering
Sarah Brooke is undertaking her PhD at Loughborough University in the Transport Studies Group. Sarah has returned to academic research after various career roles and therefore her profile will be interesting for those of you who are considering a career change into academic life.
What was your educational background/qualifications before doing a PhD? Which Universities did you attend for your Undergraduate and/or Masters and did you spend any periods of time working before you began your PhD?
My first degree was a BSc (Hons) 2.1 Social Psychology, Loughborough University (1991-94) and I then returned to take an MSc (Distinction) Sustainable Transport and Travel Planning, at Loughborough University as a part time student.
I graduated in 1994 and went to work from then until 2012, after my return to Loughborough as a part time MSc student I then left work to return to education full time to study for my PhD commencing October 2012. I held a variety of positions during my career in private, public and voluntary sectors including: Market Analyst, Publications and Data Officer (both at Alstom), Graduate Teacher, and lastly Sustainable Travel Officer with Lincolnshire County Council.
What is your research area/dissertation title and why did you want to research this area?
My undergraduate degree in Psychology means I am very interested in human behaviour and thought processes. I am also extremely interested in car parking. Combining the two sparked an interest in investigating why some drivers prefer to search for on-street parking ('cruising for parking') even when there are many spaces available at alternative off-street car parks which would typically be an easier and less stressful option. I am interested in discovering which factors affect the decision to search or not to search. Such factors could be time- or price-related, associated with area-wide parking policy, or based on individual (personal or socio-economic) or trip decisions. Given the economic and environmental costs of drivers circulating while trying to find a vacant parking space, I felt this was an important area of research and one that has to date been largely under-researched in the UK.
When did you decide that you wanted to do a PhD and why?
About 6 months into my MSc course I found I very much enjoyed the studying and was finding the topic of transport extremely interesting. I was doing very well in my MSc coursework and exams which, combined with my enjoyment of the subject area, made me think seriously about commencing studying for a PhD after completing my MSc.
Can you describe the applications process and did anyone help you to prepare your application? What sources of information did you use to find out about PhDs opportunities?
My Supervisor for my MSc course was very encouraging for my PhD ambitions and expressed willingness and was keen to be my Supervisor during my PhD. My application was supported by another Academic in the Transport Studies Group within the School of Civil and Building Engineering who agreed to be my second Supervisor for my PhD. I completed an online application, which was quite brief and very straightforward and then awaited the decision about whether or not I had been successful and whether I had been awarded a Studentship to undertake PhD studies for 3 years. I believe the process took about 6 weeks from application to confirmation of a decision.
My MSc dissertation focused on a parking-related topic area and during the course of my MSc I discussed potential PhD research ideas with my Supervisor. However, no definite research area was decided until during my first year studying for my PhD when, while undertaking a review of the literature, it became apparent that the topic of parking search was a research area that greatly interested me.
Did you have interviews for your PhD? If you did can you describe what they were like?
No interview was required in my case, possibly because I moved straight from my MSc with my Supervisor to having the same Supervisor (+ one other) so my Supervisor was already very familiar with me and my capabilities for undertaking PhD research.
What have been the main differences between undergraduate/masters study and being a PhD student and what have been the main challenges you've faced in your PhD?
There is much more independent study, self-reliance, and responsibility for making your own decisions about research direction, with the PhD having no formal taught elements as compared to both the BSc and MSc. Having said that, I receive a tremendous amount of support and guidance from both my Supervisors, which is vital in ensuring I am on track both in terms of timescale for PhD completion but also in the tasks and approaches I am undertaking.
During the course of the PhD there is also a requirement to increase my transferable skills through undertaking training courses and attending research conferences and seminars. As such the PhD is treated as a learning process – learning to be a 'Researcher', which is quite different to the BSc and MSc where the process is more on the outcome of gaining the qualification.
What other experience have you gained during your PhD?
I have undertaken several marketing promotional campaigns for the University, such as poster and leaflet campaigns for the Careers and Employability Service, and a promotional video for new postgraduate students on behalf of Loughborough Students' Union. I have also had a profile featured in the 2014 Postgraduate Prospectus.
II have chaired a conference presentation session at the 2014 East Midlands PGR Conference held at Leicester University and been asked to present and to sit on a panel to debate parking issues at the forthcoming British Parking Association Annual Conference in October 2014. I have also had an article published in the 'Parking News' (magazine for members of the BPA) and online on the BPA website and have written a chapter in a book 'Parking: Issues and Policies' that was published in August 2014.
What has been the most enjoyable aspect of your PhD and what skills/behaviours and attributes have you developed personally and professionally during your PhD?
Increased knowledge of my chosen subject, feeling a real sense of accomplishment when I have had a conference or journal paper accepted and published, and having the opportunity to work alongside some of the best Academics in my field.
Time management and good organisational skills have always been my areas of strength, which is fortunate as these are imperative in completing a PhD. Skills that I have developed include presentation skills, given the requirement to present my research at conferences and at other events related to my studies or to the PGR President role. I am developing statistical modelling skills both in conducting the analysis and being able to accurately understand and interpret the results.
A developing skill is being able to explain my research on different levels to a variety of audiences with varying awareness and knowledge of my subject; as is having the ability to justify reasons for choices made within my research – which will become increasingly important as my Viva approaches. Further areas that are constantly being developed are communication skills (both written and verbal), confidence, determination and persistence.
What were your career plans when you started your PhD? If they have changed what career area do you want to go into now and why have you changed your plans?
I wanted to work in Academia to continue undertaking research, ideally at Loughborough University. My plans have not changed and I am still hoping to pursue this career choice.
What top tips would you give to someone who is considering doing a PhD in your academic discipline?
Build in more time for every task you undertake because everything takes longer and there are often delays that arise for reasons that may or may not be within your control.
Listen to your Supervisors as they are there to advise and guide but take ownership of your PhD – after all, it is your research.