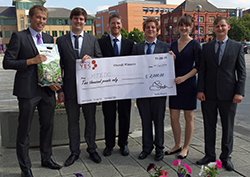 Engineering YES (Young Entrepreneurs Scheme)
The Engineering Doctorate is an alternative to a traditional PhD in that it is more closely related to industry needs and provides students with a research degree that tackles industry problems.
Lucas Irving and Alicia Stevenson are first year EngD students at the University of Nottingham. In this conversation with Clare Jones, Senior Careers Adviser Research Staff/PhD students, they explain why they chose an EngD rather than a PhD as well as offering insights into the different demands of an EngD.
1. What was your educational background/qualifications before doing an EngD? Which Universities did you attend for your Undergraduate and/or Masters and did you spend any periods of time working before you began your EngD?
Both Alicia and Lucas took integrated Masters degrees (MEng) at Nottingham. Alicia's was in Product Design and Manufacturing and Lucas in Manufacturing Engineering and Management. Whilst both had A'level Maths they had also studied art. music, sociology and english perhaps subjects not traditionally associated with a pathway into engineering.
Alicia did spend a year in industry after her MEng undertaking an internship in additive manufacture.
What are your research areas/dissertation titles and why did you want to research these areas?
Lucas – "Using live and reactive fixture systems to better achieve the tolerances for laminar flow wings"
Lucas explained that the research is being undertaken within the aerospace sector and is meeting a need for the industry to update and improve technological approaches. He wanted to be involved in a project that was meeting an industry need and helping to improve technology.
Alicia – "The potential impact of additive manufacture on the design and manufacture of precision instruments.
Alicia's interest in this research also highlighted its involvement with new technology and the fact that the applied nature of this research meant that she would be able to see the outcomes as she put it "reasonably immediately".
2. When did you decide that you wanted to do an EngD and why? How did you find out about your EngD? What was the application and interview process like?
For Lucas and Alicia their responses to these questions highlight some differences in decision making and application approaches.
For Lucas the idea of an EngD came directly from his MEng industrial placement with Airbus. Airbus were interested in this research as it would have benefits for the company and as Lucas was working for them it also meant that he was involved in some of the discussions about the work from the beginning. He did stress in our conversation that he still had to achieve the required grades in his MEng and have good references in order to secure his EngD position.
As Alicia explained earlier she had followed her MEng with an internship in additive manufacturing and this stimulated her interest in this area. She had wanted to undertake a research degree but then discovered that an EngD was the option that allowed her to continue to pursue her interest in additive manufacture. During her search for PhD opportunities she saw the advert for an EngD and applied for it.
Alicia's application was accepted by the University but she also had a company interview which she described as "intense". She faced a panel of eight interviewers for 45 minutes and also had to make a presentation. The interview mainly concentrated on technical issues.
3. What have been the main differences between undergraduate/masters study and an EngD and what have been the main challenges you've faced so far?
Alicia and Lucas are nearing the end of their first year and as EngD students they have spent this year on a Masters level programme and so have undertaken a series of modules as well as a research project. Both, however, said that they had to take responsibility for their own training and also felt that they had more responsibility for their own work than previously.
They were clear about the challenges they have faced and these related to the fact that EngDs are working in universities and in industry. Both felt that the challenge of learning the "ways of industry" had been good for them but they had also had to manage the expectations that their industrial partners have about project process. Alicia also highlighted that it had been challenging to be viewed so quickly as an "expert" by company colleagues.
4. What other experience have you gained during your EngD?
Both Lucas and Alicia have been demonstrators and have also taken part in the University's community engagement day, Mayfest. As you can see from the team photograph attached to this case study they have also taken part in Engineering YES (Young Entrepreneurs Scheme). The aim of this is to enhance their commercial knowledge as well as team working and communication skills.
5. What has been the most enjoyable aspect of your EngD and what skills/behaviours and attributes have you developed personally and professionally so far?
Both Lucas and Alicia stressed that they enjoyed being at the forefront of technological developments – as Lucas put it "I like pushing the boundaries". They were also motivated by being involved in projects that had real world applications.
They both agreed that their time management, self-management and planning skills had improved. They particularly highlighted communication skills as being a key area of professional development – Alicia summed this up well as she explained that she had to communicate with lots of different people in the company as well as with academics and she had developed her ability to adapt her style of communication to her audience.
6. What were your career plans when you started your EngD? If they have changed what career area do you want to go into now and why have you changed your plans?
Alicia and Lucas both stated that they had been more drawn to careers in industry and therefore the EngD style of research degree suited their plans. Following the completion of their first year they will spend the rest of their time based at their respective companies. Alicia did highlight that an EngD can keep her options in academia open as well.
7. What top tips would you give to someone who is considering doing a EngD?
Lucas – "if you like research and want to influence industry immediately do an EngD"
Alicia – " Find an area you enjoy – it's four years".