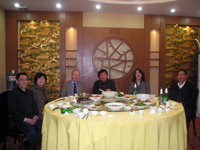 International Academic Research
How can my research make a bigger impact? All academics know that to be truly outstanding, their work has to be internationally recognised – and we would all love to be part of a big international consortium, doing outstanding research – but how do you get started?
Often, the most respected experts may not work in your department, or even your country. Embarking on a collaborative project is the best way to experience working with them. Another reason for working with other groups is that this will give you access to their facilities and equipment, or to their expertise. The purpose of the collaboration can be a research partnership, working toward a common goal, or it can be as a means of sharing knowledge with others – and there are different funding mechanisms for each kind of collaboration.
In fact, certain fields of study, such as genetic research, have become increasingly multinational and multidisciplinary, and are supported by ethical guidance and specific funds that promote international collaboration.
International collaborations can:
Help raise your profile and
Complement and improve your research capabilities
This in turn can lead to:
Breakthroughs and discoveries
Greater diversity in understanding
Broadening the frontiers of knowledge and
Furthering institutional priorities
In order to build a credible proposal, you need to get to know other people in your specific field and related disciplines. Here are four ways you can find international collaborations.
1 Research online
For a start, you can identify potential collaborators and funding bodies from websites and email lists for opportunities. The European Union (EU) has funding mechanisms to encourage international collaboration. These typically come under the 7th Framework Programme (FP7). To facilitate the preparation of collaborative proposals, the EU operates the following website where you can look for projects to collaborate on, or advertise your expertise.
http://cordis.europa.eu/partners/web/guest/home
Previously successful EU funded collaborative proposals are listed at:
http://cordis.europa.eu/fp7/projects_en.html
2 Attend Conferences
Conferences are vital when it comes to initiating collaborations as you will meet your (international) counterparts who are conducting research in the same area. Presenting a poster or paper at these events raises your visibility and introduces your work to potential collaborators.
3 Network in your formal and informal academic groups
Make lasting connections, and utilise both your formal and informal networks to approach a wider academic audience and groups of colleagues. An introduction by her colleagues to their collaborators, led Dr Nicola Everitt, Associate Professor in Materials Engineering at the University of Nottingham, and an expert in nano-indentation and atomic force microscopy, to contribute to research in plant biomechanics.
Dr Everitt explains that being involved in international collaborations can be an illuminating experience as such projects have enabled her "To further the field of research and discover more than I would do just on my own." She has collaborated on several international projects. In 2005-2008, she was a co-investigator on an EU (FP6) project which studied polymer scaffolds for medical implants. Recently, she embarked on a weeklong visit to lecture in China, and in order to learn new techniques and share knowledge, she visited a laboratory in San Francisco on a Royal Academy of Engineering grant.
With these collaborations, she says, "I have made contacts and increased my confidence and knowledge about working on and running big international projects - if only in part, how not to do it!" Dr Everitt is currently involved in a German-led European Research Area project which has helped with ongoing research and obtaining a PhD student. She sums up her experiences by saying, "It has been good to see how other labs are doing things. Its also good to look outside your own university and the UK research landscape."
4 Get to Know Visiting Professors
Another way to initiate collaborative research is to meet and get to know visitors while they are at your university – even if a colleague is hosting them. Finding that a visitor to your university is involved in a related area can lead to a joint proposal, or at least, to useful advice.
Considering their multiple benefits, international collaborations can certainly help to advance your career, and can also be a great source of satisfaction – in addition to being the key to better research.
Managing International Collaborations
There is however, the disadvantage of distance – it may not be possible to meet as regularly as would be ideal. Sometimes, people join enthusiastically but contribute reluctantly. It is important to make sure at the start of the project that everyone involved knows what is required, as this can be left too late, and the project is unable to deliver.