On April 20 in Manchester, three academics, Drs. Max Jones, Jamie Wood and Catherine Armstrong held an HEA funded workshop for History PhDs and recent post-docs designed to support and improve their teaching practice and help them get a job in academia. This report is designed to feed back the most useful findings of the day to help you in your search for your first job.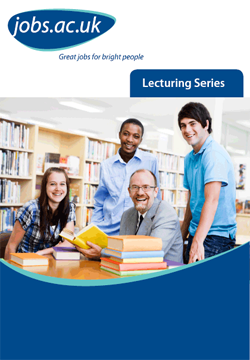 Click here to download our
'Lecturing Skills' eGuide
Lecturing
Max Jones began the day by offering advice on lecturing, a skill that many scholars are unable to develop while doing their PhD due to lack of opportunity. Max raised three very important points:
Develop your own style, whether it is flamboyant, or quietly authoritative. Think of ways to enhance your authority in the class room.
Be innovative and offer variety; do not simply talk to your students for 50 minutes
Timing! As all the speakers at the event demonstrated, even the most experienced lecturers find it challenging to stick to time. This is something you must work on in order to gain the respect of students and colleagues.
Small group teaching
Jamie Wood then led a session on the importance of small group teaching and posed a series of awkward scenarios, asking delegates to think about ways to deal with them. Here are the key findings:
Small group teaching can sometimes mean you're faced with a room of 50 students: breaking them up into workshop groups of no more than 10 and also doing pair work can ensure that everyone gets a say.
At other times you might be faced with 8 highly engaged, inspiring students. Keep them on their toes by setting a variety of classroom activities, such as student presentations and debates.
The two main problems are students that are too noisy or too quiet! For a student so enthusiastic that they don't let others speak, we agreed that speaking to them outside class time was the best approach, thanking them for their contribution and asking them to help the tutor by allowing others to contribute too. To encourage quiet students to speak, ask them to be the scribe or spokesperson in group activities or do paired work to make sure that at least they talk to their neighbour.
Marking
After lunch Leif Jerram offered a marking model for the tutor who has large numbers of assignments to mark. He suggested that students were often overwhelmed by feedback written on their script and found comments impenetrable and full of academic jargon. Dr Jerram raised the following points to help all of us improve our marking:
Tailor your feedback to an intelligent 18-20 year old. Offer 3 points of 'actionable' advice that they can change in time for their next assignment. Marking should not be directed to colleagues or external examiners, but to the student themselves.
There is no need to write feedback on the script. Students find the markings and scribbles of tutors impenetrable.
Dr Jerram's second suggestion was controversial and not all tutors agreed that this would work for them, but the lively discussion his session generated showed that there are some tutors out there passionate about marking!
Career Development
Finally Catherine Armstrong led a session on how to improve your chances of getting a job in a competitive market. The key points to emerge from this were:
Be aware of current issues in HE, such as the REF, impact, student satisfaction
Use tailored academic CV advice such as on this site. Generic 'resume' tips will not help you to write an academic CV
For interviews, do your research beforehand: you need to know the people and approach of the department you are interviewing with.
Be prepared to do a stint as a temporary or hourly paid lecturer in order to gain experience.