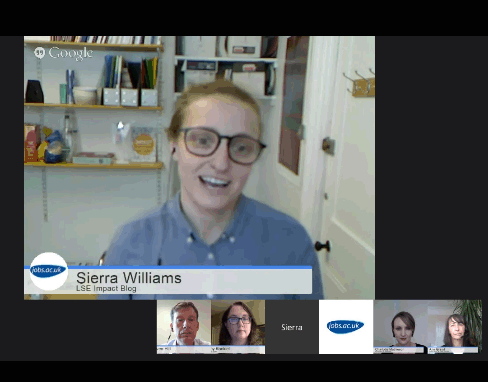 Sierra Williams
Research impact is a concept fraught with pre-existing notions and divisive opinion. Criticisms of 'the impact agenda' and the creeping spectre of market-driven instrumentalism are never far from my daily work-life as Managing Editor of the LSE Impact Blog. And with good reason, as the increasing administrative pressures are stacking up for the growing mass of contingent academic staff. But I have to also say that sometimes, the back and forth debate about the impact agenda weighs on me. Shouldn't we be able to discuss impact in a positive way without all the baggage? Surely it's a good thing that the work academics spend years toiling over actually makes a difference in society. And what's that? Funders are recognising this now? Even better!
Now that's not to say that discussion on impact should be uncritical. But impact can be discussed critically while also positively engaging with how research makes a difference. Earlier this week I got to chair a lively Hangout panel discussion on research impact and public engagement for career success and what struck me first and foremost was that all the panel members were eager to engage with research impact in a positive way, perhaps more so than a poll down an academic corridor would have yielded. And what the session proved I think was that you can be positive about impact, and be positive about the breadth of engagement experiences in Higher Education and still dig deeper into what these concepts mean for academia.
The panel had a range of different voices and extensive expertise on the subject: Ann Grand (Open University and University of West England), Steven Hill (HEFCE), Stacy Konkiel (Altmetric.com) and Charlotte Mathieson (University of Warwick). The broad theme allowed us to jump around on a variety of topics but really the core message was that impact and public engagement are already filtering into a wide range of research activities and researchers should be preparing for this from day one. From the creation of research questions to the dissemination of your findings via open access articles and blogs to using digital tools to capture the signals of influence your research is having, there are many directions (pathways?) for researchers to get stuck into.
Ann started off the discussion with what she called a basic point, but one often forgotten and worth reiterating:
"We all want our research to have an impact. We all want people to know what we are doing…and I think we all want to have some effects and to make some kind of change in society."
But what is an impact? And what counts as engagement? All panellists touched on the close relationship between the two but Steven provided a noteworthy visual of the venn diagram where there can be overlap between research impact and public engagement but not all impact involves public engagement and vice versa. Impact is predominately about proving a demonstrable change, whereas engagement involves communicating with a deliberate and diverse audience. Furthermore, wide dissemination isn't an impact outcome in itself – for impact to count as an impact there needs to be evidence of a change made in society.
I asked the panel to each give an example of a particularly interesting case study in public engagement. The responses ranged from digital media platforms to community health development to local stakeholder partnerships. Here are some links from their recommendations
What kept coming through in the discussion was just how diverse public engagement is – there really is no one model. Every project has the potential for impact. So to look further into how individual researchers might consider public engagement and impact with their own research, I asked the panel their thoughts on when researchers should start to think about these things? Ann again came up with a very succinct and quote-worthy answer:
"You can't emphasise too highly for me – planning should embedded throughout the process and you can't start thinking about it soon enough. Engagement isn't that frilly bit at the end. To leave it until the end reduces the potential impact that you can have."
Charlotte agreed with this and suggested that researchers should consider some key questions in the beginning to help ground their projects. Questions like, who is this public we are trying to reach? What are they going to get out of it? Any attempt to establish some concrete aims and objectives will improve the outcome and chance for success. Steven and Stacy agreed with this but also reminded researchers not to miss out on serendipitous impact! Seize opportunities when they come. You never know the full extent of the impact your research can have, so be open to exploring new avenues and be open to measuring dissemination channels to see if new engagements or stakeholders are cropping up. Alternative metrics (altmetrics) can point to where your research has been valuable and can also help establish a feedback loop so you can evaluate how well you are implementing your communications plan and objectives.
How is impact evaluated in the REF and how can researchers look to evaluate the impact of their own public engagement campaigns? Steven was quick to say that HEFCE aren't in charge of deciding what counts, and if you want to know what counts, the assessment panels are in charge of that. Of course the assessment panels are responding to and guided by HEFCE's advice and further institutional responsibility on behalf of funders could only help with such a vague notion like impact. But Steven underlined that HEFCE want to make it easy for people to demonstrate and will be trying to figure out how they can do that better. He also mentioned an autumn consultation process they will be running and I'm sure many in the Higher Education community will be looking forward to feeding in to that further.
Other panel members suggested that when looking for more ideas on how to evaluate your own impact, a good place to start is your own institution. The folks at your universities, research support officers and impact planning teams are a good place to start and they are there to help you understand the evidence processes for the specific kind of impact you will need to provide. Charlotte noted there is nothing worse than getting to the end of a project and then being told what you should have been capturing, so early career researchers should definitely make sure to solicit involvement early on!
The final section of the Hangout was spent on more practical steps researchers can take to encourage broader impacts for career success. Stacy argued that practicing open research is a first step to impact. Open research will boost the potential of unrealised impacts. More eyes on your work mean more possible opportunities. Ann also weighed in on this idea that open science vastly opens up the potential for audiences to interact directly with your research. Rather than just engaging with the researcher, audiences can repurpose, reuse and engage with research. In terms of how researchers can communicate impact on their CVs and in interviews, metrics may not be so suitable. Evidence of impact is important but individual metrics are merely signals to help read through the attention. Researchers shouldn't rely on just one score - whether that is the journal impact factor or an Altmetric score. Context is necessary.
The panel were all in agreement that impact is certainly not going to go away and is also becoming an established promotion criteria. So far from being a separate activity, reaching wider audiences and capturing the change that can result from your work is now deeply embedded in the research process itself. Charlotte encapsulated this point well: "Time spent on public engagement is never time wasted from your core research."
The hour-long hangout went by very quickly and there was still a great deal we could have covered. One particular question raised the risks associated with sharing your research before formal publication and whilst the panel briefly recommended that early career researchers discuss with colleagues and consider disciplinary norms, more attention was definitely deserved on how to walk the delicate line between publication and getting your research out there.
The final few minutes of the hangout were spent on key takeaways from the panel on research impact and public engagement and there were great points provided on the reciprocal process of impact and the importance of following the signals. I found Steven Hill's takeaway both concise and comprehensive of the hour's discussion and would like to end my summary on his call:
"Just do the very best research you can and take whatever steps you can to disseminate your work widely and understand the ways in which it can be useful to people outside academia."