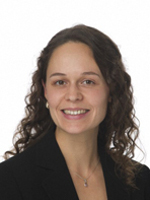 Dr Lydia Harriss
Wellcome Trust
This article is for early career researchers who are considering a move out of academia. Included are insights shared by Dr Lydia Harriss, who now works in a non-lab based role at the Wellcome Trust. Lydia took up this post after completing her PhD at the Life Science Interface Doctoral Training Centre at the University of Oxford.
Why change direction?
What we want from our career depends on our motivations, values and what is important to us. We are likely to seek out a new direction if our current situation is not completely aligned to what we want from our work life. Here are possible reasons for a change in direction:
Are you drawn to gaining experience in a new sector?
Are there are no suitable jobs in academia?
Are there aspects of your research which you don't enjoy?
Whatever your reason for considering a change, it is important to gain clarity about what it is you do want from a job. Lydia for example realised that she wanted to use and develop the scientific knowledge that she had gained through her PhD.
"I knew from my research and extracurricular activities, that there were certain skills I really enjoyed and wanted to continue using, such as writing, teaching, presenting and working with others. These factors directed me towards 'science communication' related jobs. As this is a very broad field in itself including areas such as journalism, broadcasting, publishing and museum curation, I knew that I would need to gain a better understanding of what these roles involved and what I would enjoy the most. I set about gaining experience whilst doing my PhD. This included volunteering at science festivals, helping at museums, tutoring and getting involved in running skills training workshops at my university."
Making a successful move
As we can see Lydia identified aspects of her work as a researcher which she enjoyed and she went on to research jobs in line with her preferences. She gained relevant work experience, of benefit both for her CV and to help her to understand the type of work she was best suited to.
Here are some further tips, based on insights shared by Lydia:
• Build up your network. Take the chance to meet and talk to new people. Tell people what you're interested in doing and they will also keep their eyes open for opportunities for you.
• When applying for jobs, be ready to 'repackage' your PhD. Think about it in terms of the transferable skills you've developed and experience you've gained. Don't expect people to already know what a PhD is and involves, be ready to tell them.
• If you have an extended job hunt, try to have something else running alongside (paid work / volunteering) so it's clear to employers that you're taking an active approach and are continually developing your skills.
• Make the most of your careers service. I found them very helpful for advice on CV layout, covering letter feedback and interview preparation. Tailor your CV for each industry or sector that you apply to. My academic CV was very different to my industry, science communication and publishing CVs.
Benefits of a move to a new sector
Gaining experience in a range of sectors is likely to provide you with a strong basis for developing a rewarding and successful career. It enables you to:
build a portfolio of skills, achievements and experience
demonstrate the ability to adapt to new environments
engage with people working in different sectors
take the opportunity to find out what interests you most in your work
"The Wellcome Trust is a diverse organisation providing me with a great way of getting experience across a range of different fields. I'm enjoying the much faster turn-around of work. It's refreshing to be able to complete an article in a few days or weeks, compared to the months that it can take to write an academic paper or book chapter."
Taking your PhD with you
The investment you have made to gain a PhD will not be lost with a move out of academia. On the contrary taking your PhD in to sectors outside academia can be of great benefit to you and the wider community.
"I've found that my PhD has been directly helpful with the articles that I'm writing at the Wellcome Trust, as well a general ability to understand scientific journal articles. I think that understanding how research works and what it's like to be an academic will also prove helpful in the future, as I come into contact with more researchers."
Many thanks to Dr Lydia Harriss for her contribution to the article.
We would like to feature more case studies of researchers moving out of academia, so please do make contact if you have a story to share.