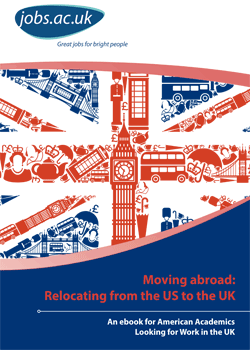 Click here to download our
Moving Abroad: Relocating from
the US to the UK ebook
An ebook for American Academics Looking for Work in the UK
This ebook explores the advantages and challenges facing academics from the United States when they are considering moving to the UK for work. It offers a step by step guide including top tips to help you to maximise your chances in the UK academic job market.
This ebook will cover:
Reasons why working overseas might be good for you personally and for your career
Differences between the two academic systems. The US and the UK may share the same language, but university life in the two countries is very different and our ebook will help to orient you through these differences
Practical challenges faced by those moving to another country for work. Interviews with scholars who have made this transition provide case studies.