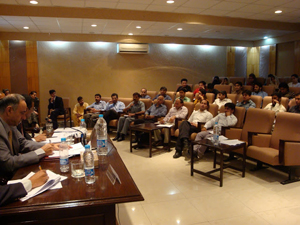 Lecture at National Defence University
Pakistan
Pakistan is probably not the first destination budding academics think of when wanting to secure a foothold in higher education overseas. However, Pakistan can offer a great opportunity for the new post-PhD academic. This article examines how you can secure an academic position in Pakistan, and how the experience of teaching in higher education in Pakistan can potentially kick-start your academic career.
Where to Look?
Academic positions in Pakistan are most often advertised in local newspapers of which 'The News' and 'Dawn' are perhaps the best known. Unfortunately for those living outside of Pakistan the online versions of these newspapers are rather haphazard in uploading the appointments sections.
An alternative route is to periodically visit the website of Pakistan's Higher Education Commission (www.hec.gov.pk) which, in addition to offering a wealth of information on Pakistan's higher education, occasionally lists vacant faculty positions. Individual university websites can also be useful and most universities will upload job opportunities onto their websites.
Networking yourself into a position
However, perhaps the best way to secure an academic position in Pakistan is to network widely with visiting Pakistani academics at UK conferences and universities. There are plenty of Pakistani academics visiting the UK on Fellowships and other short-term study visits; see for instance:
The Charles Wallace Visiting Fellowship;
The Rhodes scholarships.
If all else fails, then it is not uncommon to directly contact through email, the vice-chancellor of the University or the Head of Department of the institution you are interested in. Do not be perturbed by directly contacting these people, most will be delighted to hear from UK qualified PhDs.
Research, research, research
However, before beginning your networking it is vital that you have thoroughly researched your host institution; the best place to begin is the 'top ten-ranking universities' listed on the HEC website. Since Pakistan houses many sub-standard private universities, it important to be clear at the outset which institution you are prepared to work at to broaden your teaching experience.
In addition to public sector universities, Pakistan has a handful of excellent private institutions like the Lahore Institute of Management Sciences (LUMS), the Ghulam Ishaq Khan Institute (GIK), and IBM Karachi.
Does Pakistan pay well?
On the whole academic positions in Pakistan do not pay well, and unlike institutions in the Middle East will not pay relocation expenses. If you are being hired under the HEC's 'short term foreign faculty hiring program' then you will be eligible for an economy class fare to/from your country of origin; otherwise the pay is certainly not comparable to the Middle East.
So what can higher education in Pakistan offer?
However while pay is dismal, a teaching stint in Pakistan could potentially help to accelerate your career elsewhere. Higher education in Pakistan will readily offer:
The opportunity to broaden your teaching experience;
Will welcome innovation in both teaching methods and course content.
You may well be given opportunities and space to:
Suggest and organize conferences;
Interact and build linkages with institutions outside of Pakistan;
Set up a new peer-reviewed journal.
In short your exposure to UK higher education is greatly valued. If you are creative, innovative, and willing to adapt, then a stint in Pakistan can offer a level of experience and exposure that new academics rarely get in the UK; that is, if they are one of the lucky few who do land a job following a PhD.