Related Jobs
Geographical variation
Average salaries in China are relatively low compared to the countries like the UK, but costs are also comparatively low, giving greater purchasing power and potentially a higher standard of living. The cost of living is cheaper in western China and in rural regions than in the large eastern cities of Beijing, Qingdao and Guangzhou. Shanghai has a reputation for being the most expensive place to live, although job opportunities there can be more lucrative.
Accommodation
Many foreign nationals who move to China for work are provided with accommodation by their employer, particularly in the academic sector. However, these arrangements may only be short term or limited in availability. If you need to find your own rental accommodation, it is best to use an estate agent unless you have a really good understanding of the Chinese language. Estate agents will charge a fee based on the rental value of the property once they have successfully placed you. Costs vary hugely across the country, so make sure you research the area you are relocating to beforehand.
To buy property in China, you must have lived there for a year or more. Property owned by foreign nationals must be lived in and cannot be bought to rent out. There are also restrictions on expats buying land in China and taking out mortgages from Chinese banks, so many choose to rent instead.
Rental deposit
The initial outlay for renting in China can be quite high. As well as any agent's fees, you may be asked to pay a non-refundable holding deposit of one month's rent. Security deposits can be up to three months' rent and there may be property management fees on top of this, particularly in communal residences like apartment blocks. Quoted rent prices often don't include bills, so check what is included before signing.
Real estate tax
Homeowners in China may be required to pay real estate tax on the value of their property, while landlords must pay tax on rental income. Some landlords will pass this tax on to their tenants in the rental agreement, so always budget accordingly.
Utilities
Utilities such as water, electricity and gas are provided by regional suppliers. In theory, tariffs are regulated by the state and should be the same across the country, but in practice there is a degree of variation. Payment systems also vary between suppliers, so it's best to check your local service. In some areas, particularly in the cooler north of the country, shared residential buildings may have communal heating. Telephone and internet connections are available from a number of suppliers on a range of pricing packages and structures.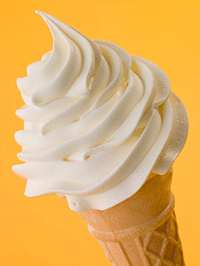 Ice cream is said to have been
invented in China in around 2000BC,
when people used to chill a soft mixture of
milk and rice in the snow.
TV
There is no fee for owning a television in China and the China Central Television (CCTV) provides 22 free-to-air channels. Most programming is in Mandarin, but there are some channels broadcast in other languages or with subtitles. The company also offers pay TV channels. Paid satellite and internet TV services are also available through a range of providers, and are popular with foreign nationals looking for more programming in their native languages.
Healthcare and medical costs
Healthcare in China is not free and relies on an insurance system. Visits to the doctor or hospital usually incur a charge. If you are working in China your employer is obliged to provide health insurance, but the levels of cover vary greatly. If you are unhappy with the policy on offer, it may be worth taking out private cover. Some foreign nationals are insured for treatment in China by policies they hold in their home country, but it's always worth checking that the hospital you are attending is covered by your provider.
Shopping
The availability of goods in China depends on your location. In the cities you can find everything from exotic foods to designer clothing, whereas in rural areas supplies are more basic. While the general cost of goods is low, expect to pay similar prices to the UK or US for designer brands or premium products.
VAT
Value-Added Tax (VAT) is charged on most goods and services in China at a rate of 17%, although some products and particular industries benefit from discounted rates.
Price guide
Rent on 1-bedroom apartment in city centre – ¥3,776.19 (≈£358.87) per month
Rent on 1-bedroom apartment outside city centre – ¥2,134.35 (≈£202.84) per month
Price of apartment in city centre – ¥31,590.53 (≈£3,002.20) per square metre
Price of apartment outside city centre – ¥15,930.07 (≈£1,513.91) per square metre
Loaf of bread – ¥10.40 (≈£0.99)
Milk (1 litre) – ¥12.99 (≈£1.23)
Bottled water (1.5 litre) – ¥3.89 (≈£0.37)
Draught beer (0.5 litre) – ¥8.00 (≈£0.76)
Packet of cigarettes – ¥15.00 (≈£1.43)
Petrol (1 litre) – ¥7.94 (≈£0.76)
Cinema ticket – ¥75.00 (≈£7.13)
Source: www.numbeo.com (accessed May 2014)