The Lecturer's Guide to Problem-Based and Interactive Learning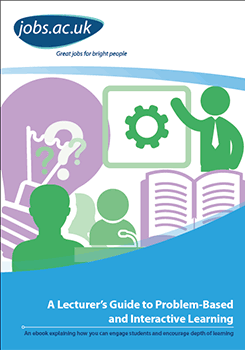 This ebook will introduce some important concepts that can help you change the way you think about and facilitate learning.
Experiential learning, problem-based learning and interactive learning are more than just buzzwords: they offer teaching and learning concepts and methods that can help your students master concepts faster and, more importantly, go out into the world with the ability to learn from experience, absorb and integrate new information, and continue the process for a lifetime that began in your university classroom.
Who should read this ebook?
Anyone teaching, or planning to teach, in further or higher education.
This ebook will cover:
What are experiential, problem-based and interactive learning?
Case studies: Experiential, problem-based and interactive learning
Why active learning is important
The Healy Matrix: A useful tool for curriculum analysis and design
Ways you may already foster experiential, problem-based and interactive learning:

Sandwich courses and internships
Laboratory experiments
Small-group projects
Individual research projects, particularly those using the action research approach
Online interactive learning

Creating new opportunities for experiential, problem-based and interactive learning

Student or professional communities of practice
Service-based learning
Activities based on the "5 Questions" model

What's different about facilitating active learning and traditional teaching?
Key skills for lecturers
Activity: Blueprint for an experiential learning project
Assessing active learning
Back-up plans: What to do when things go wrong
Resources for focused teaching skill development