Do you have a strategy in place to ensure a successful transition from PhD to building your career as an academic researcher? Have you explored alternative career paths?
The PhD is increasingly opening doors to a whole range of opportunities, particularly if you develop the rounded experience, knowledge and skills required by employers.
The market for jobs in both academia and other sectors is competitive, and you therefore need to plan ahead, be strategic in your job search and look at ways to stand out from the crowd.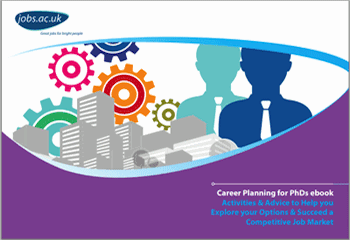 Click here to download our 'Career Planning for PhDs' eBook
This ebook will help you:
Explore your options after PhD
Learn from the positive experience of other researchers
Consider what is required to succeed in a competitive job market
Take action so you can open doors to your future career
Activities at the end of the ebook will help you to reflect, develop a strategic approach to your career plan and take action