Carolyn Drake is undertaking her PhD at Loughborough University and is working in Human Factors research. Her profile will be interesting to those who might be considering undertaking a PhD as part of their continuing professional development.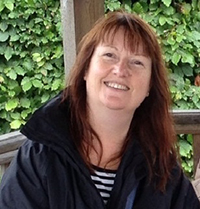 Carolyn Drake PhD Candidate in Social Science
What was your educational background/qualifications before doing a PhD? Which Universities did you attend for your Undergraduate and/or Masters and did you spend any periods of time working before you began your PhD?
I undertook my undergraduate degree through the Open University before undertaking my Masters at Loughborough. My career has been spent in various Health and Safety UK and Global Management roles in Manufacturing, Telecommunications, Automotive and Energy Sector.
What is your research area/dissertation title and why did you want to research this area?
What health and safety age management strategies are employers using to protect their older workers ? I am an experienced health and safety professional so wanted to research something within my own professional field.
When did you decide that you wanted to do a PhD and why?
Following my MSc I thought about a PhD on and off but was working full-time. In summer 2012 I decided to re-assess my life and what else I wanted to achieve. I was spending a lot of time travelling with my job and was missing a good home/work balance. My children had either left home or were settled at university so I decided it was now time to concentrate on myself. In 2013 I left my job and came to Loughborough University to enjoy the luxury of studying full-time.
Can you describe the applications process and did anyone help you to prepare your application? What sources of information did you use to find out about PhDs opportunities?
Unfortunately I am self-funded ! I had no help in my application.
Did you have interviews for your PhD? If you did can you describe what they were like?
I met my supervisor for an informal chat in the summer of 2012. He introduced me to two of his students, one of whom had given up work to return to full-time study. Following this I submitted my application to commence in October 2013.
What have been the main differences between undergraduate/masters study and being a PhD student and what have been the main challenges you've faced in your PhD?
There is no plan to follow, you make your own plan – you are on your own. You are guided by your supervisor, but at the end of the day everything (aims, plans, work scheduling, decisions etc) is all down to you. For me that is easy and ideal as that was how I operated in my working life for many years, however some people may find that hard to adjust too.
What other experience have you gained during your PhD?
I supervise MSc students at the Business School who are undertaking Health and Safety studies.
What has been the most enjoyable aspect of your PhD and what skills/behaviours and attributes have you developed personally and professionally during your PhD?
The other PhD students and university staff all make you feel so welcome. I am thoroughly enjoying my time at Loughborough University. All aspects of my PhD are enjoyable. For the actual PhD I have enjoyed the literature review and gaining knowledge; I have enjoyed my first qualitative study - some employers actually contacted me to take part. This was wonderful as I know I have chosen a research area that requires more new knowledge. Seeing my progression a year on gives me immense pride of my achievements so far.
The ability to critically question and assess information, whether it's in a quality journal or information that is in the public domain but hasn't been peer-reviewed. I have been told my passion for my subject area is infectious. Continuing professional development is a requirement of my status as a chartered member of the Institute of Occupational Safety and health and my knowledge in health and safety increases every day.
What were your career plans when you started your PhD? If they have changed what career area do you want to go into now and why have you changed your plans?
At commencement of studies and a year on I am still considering working within the academic world. However I have no particular plans and am quite relaxed as to where life and my studies take me.
What top tips would you give to someone who is considering doing a PhD in your academic discipline?
Three years is a long time so it is vital that you choose a subject that you find interesting and have a passion for. Make sure you plan your time – three years sounds a long time but time slips away very quickly. The thought of all that work over three years can be quite alarming, but just break work up into more manageable bite size pieces – it's less stressful and you see progress !.