White Coats and Trollies?
At the beginning of the next academic year, ask any fresh faced student what their university's technicians do and you'll probably be met with blank stares, (either that or they'll tell you that we wear white coats and push trollies full of equipment around!). Ask that student the same question at the end of their studies and I guarantee they'll have a lot more to say!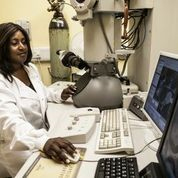 Technicians working at University of Nottingham, 2014
Technicians can be found in every corner of the university, quite literally from A (Art) to Z (Zoology) and whilst okay, occasionally you might find some of us in white coats moving equipment, there is so much more to our role than that.
Technicians make a crucial contribution to the core research and teaching activities of our institutions. We take the blue sky research ideas of our academic colleagues and turn them into something real. We take the theory of the lecture theatre and put it into context for our students through laboratory classes, workshops and field trips, teaching them the practical skills that todays' employers increasingly demand.
We're a highly skilled bunch and our expertise spans a diverse range of areas. It's crucial that we remain at the forefront of ever evolving technologies in order to provide our academic and student colleagues with first class technical support, enabling research and teaching of the highest quality on an international stage.
Technicians research, teach, manage, innovate, advise, fix, the list goes on! To put it bluntly, we make things happen. Strip a university of its technical staff and quite frankly the majority of departments would fall apart.
Despite this many have long lamented the invisibility of the technical role, both in our own institutions and across the wider higher education sector. The world of academia is designed around our academic and administrative colleagues. Technicians seem to fall through the gaps, perhaps most crucially when it comes to professional development and career opportunities.
But….times are changing! Universities are beginning to recognise their technical talent and are increasingly looking at ways to support and develop this crucial staff group. This is partly in response to a government initiative to promote the professional status of the technical role across all sectors, not least higher education.
Both the Science Council and the Engineering Council now offer professional registration for technical staff working across the STEM disciplines to ensure recognition and development of the technical workforce. With growing interest from higher education funding bodies, registration as a professional technician/scientist/engineer is particularly relevant to university technical staff and looks likely to be an important milestone in their technical career.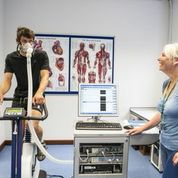 Technicians working at University of Nottingham, 2014
What is Professional Registration?
The Professional Registers provide a framework of professional registration across the STEM workforce to recognise high standards of professionalism at all levels. Registration is awarded by a range of professional bodies, licenced by either the Science or Engineering Council, and consists of the demonstration of competencies, knowledge and a commitment to professional development. It is based on experience and 'on the job' learning, not academic qualifications. Becoming registered provides external quality assurance and recognition of an individual's current role and offers a framework for future career development.
How Do I Become Professionally Registered? A Guide for Technical Staff.
Professional Bodies
The first step is to join a professional body. The one you choose will depend on your discipline and area of expertise. There are a range of options with benefits such as a quarterly journal, various grant schemes, networking opportunities and career development events. The Institute of Science and Technology (IST) is a popular choice for university technicians as it is the professional body for specialist, managerial and technical staff. If you have specialised knowledge in a particular area you may prefer to register with the professional body that best represents your expertise. For example, if you have a chemistry background you may wish to gain registration through the Royal Society of Chemistry or if you are a technician with mechanics expertise you might choose to gain registration through the Institution of Mechanical Engineers.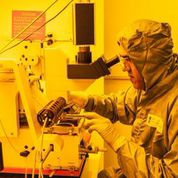 Technicians working at University of Nottingham, 2014
See here for a list of professional bodies licensed to award professional registration through the Science Council.
See here for a list of the professional engineering institution licensed to award professional registration through the Engineering Council.
The Registration Process
Once a member of your chosen professional body you need to refer to their guidelines for professional registration with the Science or Engineering Council. There are varying levels of accreditation available – see table below for details.
| | |
| --- | --- |
| Science Council | Engineering Council |
| Registered Science Technician (RSciTech) | Engineering Technician (EngTech) |
| Registered Scientist (RSci) | ICT Technician (ICTTech) |
| Chartered Scientist Teacher (CSciTeach) | Incorporated Engineer (IEng) |
| Chartered Scientist (CSci) | Chartered Engineer (CEng) |
The registration process generally involves documenting your experience and knowledge against key standardised competencies, providing evidence of your professional development activities and supplying a copy of your CV, qualifications and appropriate references. Applications are usually evaluated by two assessors. If successful your details will be entered on the National Registers of accredited technicians, engineers or scientists as governed by the Science and Engineering Councils. You will be granted registered status and conferred with the appropriate post nominal letters.
Once a year you will need to submit evidence of your continued professional development to your professional body to ensure continuity of your status as a Registered Technician, Scientist or Engineer.
Like all professions there is a cost involved to gain professional accreditation. The cost varies depending on the professional body you choose but generally it is between £50-100 per annum. A number of universities are running schemes to cover the cost of the first year of registration, contact your Staff Development Unit to see how they can support you.
What's In It for Me?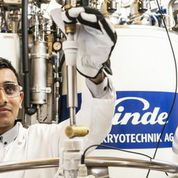 Technicians working at University of Nottingham, 2014
As technicians we often have very specialist roles and work in environments that are dominated by other professions. It's easy for us to forget that we have a professional identity too! Registration demonstrates our level of professionalism and provides colleagues, students, collaborators and funders with externally recognised quality assurance of our competencies as university technicians. On a personal level, it can help with career progression, development opportunities and open up a wide range of professional networking opportunities and resources. For example, employers are increasingly stating 'professionally registered' as a desirable trait when advertising for technical staff.
The Professional Registers are a way for university technicians to gain recognition for the professional contribution we make to higher education. By taking ownership of our profession and gaining accreditation we can bring the university technical role into the 21st Century and prove that it's not all white coats and trollies!